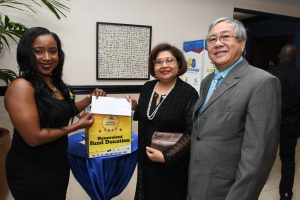 Terms of Reference for RJRGLEANER Sports Foundation Benevolent Fund
The Concept
The Foundation has been true to its mandate of recognising excellence in sports for more than half a century. Over the years, many of those who have been recognised have gone on to achieving significant success outside of sports.
However, some have been faced with challenges and could benefit from any asssitance possible. The concept developed by the Foundation for the 2019 Awards onward is to help someone each year who has served, was previously recognised by the foundation and is deserving of assistance at this time.
The Decision Making
The Board of Directors will be asked to take recommendations of known candidates from within its membership or from persons who may bring candidates to their attention, believed to be worthy for consideration.
The Board will at one of its meeting consider, discuss and decide on the candidate to whom assistance would be provided in any year.
Criteria for Designation
The factors to be considered are:
a. The candidate has represented Jamaica in Sports;
b. The candidate has been recognised in the past by the Foundation;
c. There is a clear need for some type of assistance that has been established;
d. The candidate has not done and is not doing anything illegal or improper, that could cause embarrasment to the Foundation, in its making the presentation;
e. As far as the Board is aware, no such assistance has been provided to the candidate by government or corporate entity within the last two years.
The Presentation
1. The Foundation will seed the fund each year with $50,000.00
2. Sponsors will be asked, if they can, to make a modest contribution to fund each year;
3. A letter requesting support for the fund will be issued with each invitation issued to attendees at the annual awards function, requesting a contribution, before or at the event;
4. An initial presentation will be made at the evewnt (not to be done on stage);
5. Donated funds will be kept separate and our auditors asked to audit the account and certify its good standing each year.
6. A cap of $500,000 will be placed on contributions in any year.
The account number to make contribution to this fund is as follows:
Victoria Mutual Building Society (VMBS)
Account name: RJRGLEANER Sports Foundation Benevolent Fund
Account Number: account # 466347755